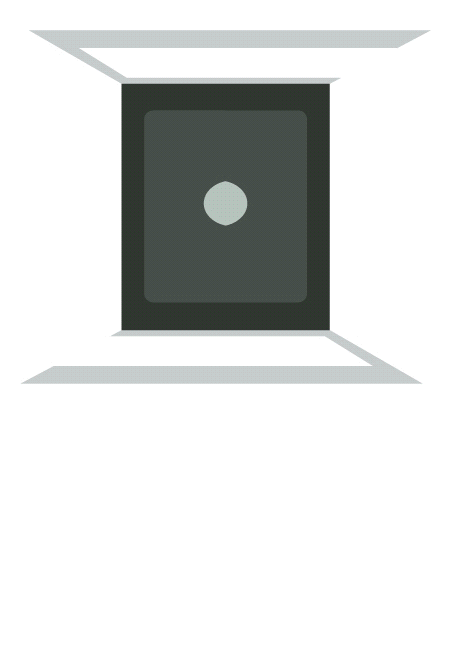 After years working in the legal profession in Jersey, Gina Tillotson moved to Northumberland in 2009 to concentrate on raising two small children with her husband Ian. Having always been enthusiastic about art and design, she chose to follow her heart and turned this passion into a career.
Q: What lead to you becoming an Interior Designer?
Gina: For many years I gathered inspiration from numerous styles of architecture and interiors. I was always asked by friends for advice on décor, so after the children were born I decided to undertake a Professional Diploma with The British College of Interior Design. This was a superbly structured course, and it was shortly after starting it that I pondered over the prospect of seriously commencing a career in this business rather than returning to Law.
Q: What areas of the industry do you specialise in?
Gina: I have a particular passion for lighting design, texture and tiles but I advise on all aspects of interior décor, accessories, colours, flooring, fabrics and furnishings. Over the years I have combined this with more and more high end bespoke residential work ranging from cabinetry design, kitchens, bathrooms and, when required, a complete project management service. I have always worked closely at the front end with a tried and tested team of subcontractors throughout each project to be certain of the standards delivered.
Q: Was this always your goal?
Gina: I had the initial idea of simply dressing properties for sale but I quickly got involved with high end residential projects, ranging from luxurious country houses to more relaxed beach side residences and sharp state of the art apartments. Showing people what can be achieved in their space to make it work for them, and seeing their delight when it all comes together is so fulfilling.
​
Q: Does mixing modern décor with traditional features reflect your own personal taste?
Gina: Not always, but I do hold with a belief that many sophisticated and well-designed interiors are achieved by combining modern styles within classical architecture. It isn't about following trends – I believe that décor should be both stylish and timeless. My own taste is constantly evolving, not necessarily with fashions or trends, but when I see something that strikes a chord in me I feel excited. I recently went through a phase of leaning towards darker décor with industrial styled windows and edgy tiled designs which has led into more modern sleek lines. I have always adored Arabic ceramics and am a huge fan of dark wooden furniture, teamed with metals, glass and huge swathes of white textiles all complimenting each other. There are certain styles I wouldn't want in our home, but that doesn't mean I don't appreciate them for their own sake.
Q: What would you do if a client asked you to design something you didn't like?
Gina: What I produce reflects on me as a designer and if somebody has contracted me they have done so as they want guidance. I obviously want my work to look good, but I also appreciate that when a job is over I leave, so a scheme needs to work for each individual or family. I see my role as listening to a client's aspirations for a scheme then injecting my interpretation so that it works well and suits them. Everyone's tastes are different and while I may be disappointed if any of my proposals are dismissed I'm never offended. I pride myself on listening to my clients, so that when they describe their lifestyle and personal preferences I can deliver on the promise of a home which is both in harmony with and represents the best of their personality. Most clients will openly admit if they are not very adventurous with regard to colour schemes, so I always ask whether they mind me making suggestions, even if they may be too cautious to implement them.
Q: What do you consider the 3 most important elements to good design?
Gina: Light, Space and Vision – without a doubt. The latter is the trickiest as it is where you add texture, colour and interest according to the first two.
​
Q: What's next?
Gina: I'm developing the Jersey business with an added interest in the ecologically sustainable elements of design, or as I call it dECOr. I am constantly seeking out suppliers who specialise in this area, for example I am currently using a lot of luxury carpets made from upcycled old fishing nets backed with recycled plastic bottles: It is impossible to tell that these stem from anything other than a desire to produce quality floor coverings which are extremely durable. I always try to source products locally first to boost the local economy and reduce our carbon footprint, and I am also encouraging UK based clients to make the most of Green Grants and Renewable Heat Incentives to upgrade their properties into ECO homes. Air Source Heat Pumps are a great way to go with reducing our use of costly, dirty fossil fuels.
Q: Any final thoughts?
Gina: I believe a house should tell the story of the lives of those who live there. That is what makes it a home: It isn't just about structure, but shared experiences such as pictures and art, cultural influences, practicalities and, of course, comfort too. I aim to create beautiful homes and spaces which inspire my clients to feel their best amidst their own treasured possessions.
Gina Tillotson
"

It is with great pleasure that I write to support Diploma Graduate, Gina Tillotson. Gina was a standout student at the British College of Interior Design and I was privileged to work with her as her tutor for The Professional Interior Design Course.
Gina was quick to learn and develop new skills which were reflected in her assignment submissions. Completed projects were promptly delivered and I was always impressed with Gina's ability to follow the given brief.
Demonstrating a high quality of work ethics, Gina showed commitment to each project and a love for learning which will see her flourish in a dynamic industry.
It is with no hesitation that I recommend Gina in taking on professional assignments and I will be following her endeavours with great interest."
Simon Savage
Senior Tutor
British College of Interior Design.