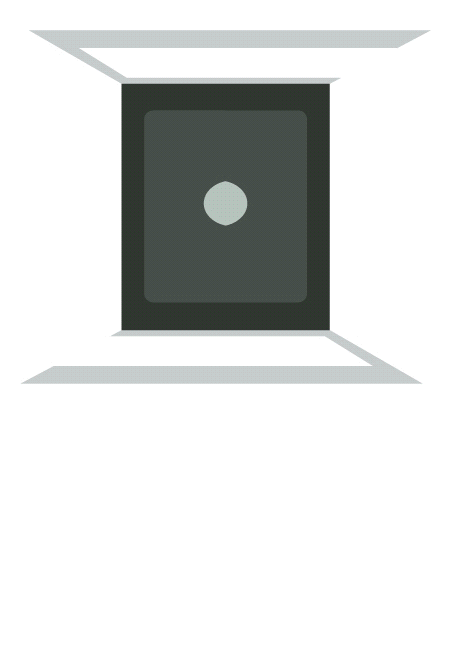 Hover over image and click / follow arrows to view in full size.
This large ground floor bedroom has only one easterly facing window, so after lunchtime it lacks natural daylight and feels dark. A complete overhall was required, and the client gave the designer free rein, with a brief that it should be restful and pretty, yet chic without being overtly bling. The colours of a subtle blush pink for the walls and grey flooring were agreed upon and it was noted that for now the existing sofa and bed would be retained.
​
A new herringbone Karndene floor with statement design edge had been installed in the hallway by Global Flooring Studio so this was continued unto the room to add to the flow of the home. A bespoke set of wardrobes was commissioned from Simply Bespoke Interiors with the internal surfaces matching the flooring for a touch of class. These were given the signature height of a Corbridge Interior Design set of wardrobes, to maximise on storage and impact, with the usual LED lighting installed behind the cornice edge to cast a glow across the ceiling.
​
White shutters from Shuttercraft Newcastle (with complete blackout mechanisms) were incorporated give privacy, as well as a peaceful feel to the room when next to the blush paint and Muraspec wallpaper. New full length Florence radiators were selected for their traditional style with modern lines, plus their height in the room was befitting a very high ceiling, both visually next to the shutters and for the BTU output.
Ceiling roses, rings and coving were put up, with the ceiling being given our favoured design treatment of continuing the paint onto the surface while picking out the plasterwork in white. The pieces de resistence are the dimmable crystal chandeliers, from Cotterell & Co: They are big, modern and not overly bling, but ooze both style and class immeasurably, as the outwardly growing U shaped crystals spiral in sleek lines to create sculpted works of art which also scatter light in a striated manner over the ceiling.
Pink and Grey soft furnishings finish the setting, together with some floating shelves painted in the same colour as the walls, so focus is drawn to the owner's possessions. Some chosen artwork is as yet to be incorporated.